Found via:
Amelia Bloomer Project nomination
Welcome back from the big weekend of ALA! I'm actually writing this post on Saturday night, since I'm not getting back to New York until late tomorrow - and I know there are plenty of librarians still in DC. Hopefully we'll still get a good Non-Fiction Monday turn out!
In
2008, Nujood Ali's story was all over the blogs. The 10 year old Yemeni girl had summoned the courage and strength to seek a divorce from her husband, who was 3 times her age. Here, with the help of a reporter, Nujood gives the first hand account of that experience, describing in child-like terms growing up in poverty, one child among many between her father's two brides. Despite the obvious difficulties, Nujood is generally a happy child.
And then the terrifying news comes - that she is to be married, to a man significantly older than she is. Nujood isn't entirely sure how old she is, but she knows she doesn't want to marry and leave her family. Her father has made her future husband promise not to "touch her" until she has reached puberty, but at 10 Nujood doesn't really even know what that means, let alone what sex is and what it means when her husband demands that she act like his wife.
It is on one of her brief trips to visit her family that Nujood plans her escape, taking a taxi to the court house and making history by announcing to a judge that she wants a divorce.
Nujood's story is absolutely heartbreaking. The trauma she experienced is unimaginable for us in the West, with firmly established age of consent laws and lack of arranged marriages. The child-like prose doubles the horror for an adult reader, for while Nujood's descriptions of her relationship with her husband are never described in graphic detail, it's painfully obvious that she is raped and abused by her new husband and his family.
As an adult reader, I often craved more details - many people in the courthouse tell Nujood that granting her divorce will be nearly impossible, thanks to centuries of tradition, and yet we never see any of that struggle. A couple of meetings with a lawyer, her husband and father are temporarily sent to jail, and then a hearing - suddenly Nujood is free! However, I think for young readers the descriptions and details will be more than enough.
Nonfiction Monday is a weekly event across the kidlitosphere, highlighting and celebrating nonfiction published for children and young adults. Started by
Picture Book of the Day
, I'm excited to be this week's host! Participants, please leave links to your reviews in the comments, and I'll add them to this post periodically throughout the day!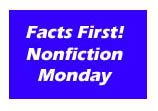 Other Nonfiction Monday posts:
What a day. Thanks to all of the Nonfiction Monday participants!