Amelia Earhart
has always been a legendary woman for me. A larger than life person who defied the odds and the conventions of the day, only to find her life cut tragically short (or was it?!) in pursuit of her dreams. But I have to admit, I've never known much beyond the myth, which is where
Amelia Lost
comes in, as Fleming does an amazing job of describing not only the myth of Amelia, but bringing to life the human woman as well.
Fleming skillfully uses alternating chapters to explore both the search for Amelia Earhart after she was
lost in 1937
, and a biography of her life up until that point. The book opens on the
coast guard cutter
Itasca
, which was scheduled to meet up with Amelia and refuel her plane before she made the hop to Honolulu and then back on to the United States. As the crew of the
Itasca
grows frantic trying to contact the missing pilot, Fleming then brings us back to Amelia's childhood - where she was known early on as a tomboy.
Even though I knew how the story would end, Fleming does an amazing job building up the tension of
Amelia's final flight
, as she edged closer and closer to the final Pacific leg of the journey. A real nail biter. But what's perhaps most amazing is that Amelia had made it to that point at all. Flying in the 1920s and 1930s wasn't always the safest proposition, and it seems like Amelia may have had more than her fair share of accidents, in part because she was always pushing herself to establish or beat the next record.
If ever there was a book that seems like it's a candidate for the
enhanced ebook
treatment,
Amelia Lost
is it. Okay, I don't have an ereader so I have no idea if they're up to the task of handling all of the pictures (these are 99% black and white, so the grayscale e-ink wouldn't be a problem), but Fleming judiciously includes URLs in the text where appropriate - such as
learning Morse code
- that could easily be incorporated into the ebook version. She also includes links in the bibliography.
This is also a wonderfully designed book. I love the
Art Deco-style chapter headings
, which really add a historical flair to the story, and then the chapters about the search for Amelia are set apart on gray paper, giving an additional visual cue that this is a different part of the narrative.
If you've ever been at all curious about Amelia Earhart,
Amelia Lost
is definitely a must read.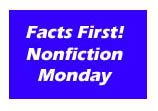 This week's Nonfiction Monday is hosted by Writing Nonfiction for Children. Be sure to stop by and check out the other great nonfiction titles highlighted this week!