Found via: Bookends
Last Monday, the big talk in New York City was how it was colder in Manhattan than it was in parts of Antarctica. Which probably isn't the fairest comparison considering it's summer in Antarctica right now, but the point was made: it was freaking
cold
here. As we're in a brief lull between snowstorms, and temperatures are thankfully back into the 30s, I thought it was high time to settle in with
Frozen Secrets
, Sally M. Walker's in-depth look at the mysterious continent.
Walker methodically walks us through numerous aspects of Antarctic exploration, from the first humans to attempt to cross the continent, back to the dinosaurs that once called it home, and looking ahead to what clues Antarctica can give us about Earth's future.
There's a little bit of something for everyone in here - geology and climatology, paleontology and even robotics. Every couple of pages I was coming across new stunning facts and photographs that I just had to share with my husband - who is going to read the book next and use it as research for the survival-horror role playing game he's setting up for our friends that will now be taking place in an Antarctic research station.
Teen readers I'm sure will feel a connection with the middle school scientists featured in the book - their science teacher goes scuba diving with Antarctic research teams, and gave her students the chance to build a robot that was actually used in an Antarctic dive. How cool is that?!
Walker does an excellent job of explaining complex scientific theories and experiments in plain language for the non-Antarctic-expert. The explanations are accompanied by amazing photographs and excellent charts and drawings when applicable, making everything extremely easy to understand, but not feel condescending.
This is also an absolutely stunning book. I can't find a picture of it online, but the cover image that Amazon has isn't the actual cover - the same picture is used, but the title is moved up above the mountains and is in a blue font, while the subtitle is in roughly the same position but faces from yellow to light blue, like the overall photo does. Visually stunning, and I just love the font as well - it comes back for the chapter headings throughout the book. Almost every page has at least one picture, from portraits of research teams to stunning landscapes to historical photographs of early Antarctic explorers. This is absolutely a must-read for any sort of science geek.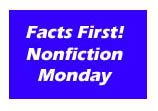 This week's Nonfiction Monday is hosted by The Miss Rumphius Effect. Be sure to stop by and check out the other great nonfiction titles highlighted this week!