Nominated for the 2011 YALSA award for excellence in nonfiction
Janis Joplin. Does the woman truly need an introduction? An inimitable voice, a tragically short life, she was a true rock star, one of the few women to jump in feet first to rock hard with the men of the 60s.
As soon as I opened this book I knew why it had been nominated for the nonfiction award. It's a visually striking book, with psychedelic borders on every page, sticking out against the mostly black and white photography.
The book dives right in to Joplin's mostly unhappy high school life. While she had a loving and supportive family, she didn't fit in with the rigid conformity demanded by her small Texas home town. Joplin fell in with the "bad boys," started reading the Beats, and plotting ways to escape - first to Austin, then to LA, San Francisco and New York City.
Angel follows Joplin's artistic growth. Music wasn't her first or only passion - she was also a painter and initially used that as her creative outlet before discovering her amazing voice. Inspired by folk and the blues, Janis went on to forge a sound all her own.
(My favorite Janis Joplin song - Piece of My Heart)
Unfortunately, it doesn't feel like the text lives up to the art design in this biography. It feels choppy, with extremely brief and random notes on parts of Joplin's life that I feel like were only put in there to be edgy. There's a paragraph or two on Joplin's relationships with women, which are never brought up again. Same with a brief paragraph about an abortion Joplin sought in Mexico in 1967 - a paragraph that also includes the factually incorrect statement that abortion was illegal in the United States at the time. This is a minor point, and I have no reason to believe Angel gets any of the important biographical data wrong, but it still bugs me and makes me question how correct the rest of her research was.
EDIT:
Ann Angel was kind enough to contact me today regarding this point (and I would have corrected this sooner, but Blogger wasn't cooperating with my work computer). After careful consideration, she and her copy editors "opted to apply the date of the Supreme Court decision (Roe v. Wade)" to the text when discussing the legality of abortion in the US. I really appreciate Ann Angel contacting me about this point and clarifying her writing and research process. I still feel that the way the text is currently written it over-simplifies a culturally significant issue, but I want to publicly thank Ms. Angel for taking the time to contact me and consider my concerns.
This is a beautiful book, about an important person in music history, but unfortunately the writing doesn't live up to its promise.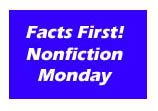 Today's Nonfiction Monday is hosted by Books Together, but before checking out the rest of the nonfiction being reviewed this week, please also visit my What have I missed? post from yesterday, where I'm collecting titles for my own personal 2011 reading challenge.