Found via:
Publisher's Weekly 4/5
I'll be upfront here: I'm a short woman. Always have been. In middle school when the girls were getting their growth spurts and suddenly towering over the boys, I was still shorter than a lot of those boys. Hence my obsession with high heels shoes - I bought my first pair of heels (combat-style boots with three inch chunky heels) in sixth grade. To the right you'll see my favorite pair of heels today - I don't care that they're 4 inch micro-stilettos, they're the most comfortable shoes I've ever owned (though mine are black patent, not bubble gum pink).
So all of that is just to say that I have a vested interest in Schwartz's topic. Schwartz is just barely taller than I am, standing five feet, three inches tall. He's heard all the jokes and teasing all of his life and read all the doom and gloom studies about how
hard life is for short people
. But being a science writer for the
New York Times
, he was curious about the reality behind these studies, as obviously he's turned out pretty well. The result of his research is a thorough debunking of the best known studies about how terrible life is for short people. Or more accurately, he debunks the popular myths about the studies - he interviewed several doctors for the book who worked on these studies and they all point out the media grabbed the sexiest sound bites rather than digging into the meat of the studies and noting that correlation does not equal causation.
Even for kids who aren't short, this book provides great examples of why critical thinking is necessary. Schwartz explains the different biases that appear in studies, or in the media reporting on studies. There's also explanations of the bell curve and standard deviations, complete with illustrative charts. Schwartz also does an excellent job of not talking down to the reader, and includes a bibliography of many of his sources, all of which are adult non-fiction titles and actual scientific surveys. He notes that they're written at an adult level, but you won't know what's too hard for you unless you give it a try!
My one complaint about this book? Schwartz focuses almost exclusively on short boys and men. Women and girls really only get mentioned when talking about breasts and the effects of early onset puberty. I would have loved it if Schwartz had taken the time to talk to some women who had experienced being short growing up, and how being a short adult has affected them - maybe even a comment on how so many of us use those awesome (but admittedly impractical) high heels as compensation.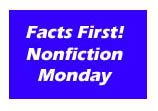 Thanks to
Simply Science
for hosting this week's Nonfiction Monday! Next week,
I'm
going to be the host - so excited!