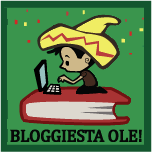 It's a slow day at work so I've been thinking about the Bloggiesta all morning and reading other people's start posts. It's not lunch time, so I figured I'd join in!
I wanted to have Mexican for lunch today, following the theme, but the only Mexican food in my work neighborhood is Qdoba which is a) relatively expensive and b) not all that great.
What's decent and cheap in my neighborhood? Pizza.
True fact: I hate pizza before I started college. Then in college I developed a tolerance for it, and now that I'm in New York I eat it at least once a week.
But enough about me: here's the list of everything I want to accomplish on the blog:
Catch up on writing reviews for some/most/all of the books I've read that haven't been reviewed yet (current count: 11)
Edit and send my version of my Nerds Heart YA judging post back to my judging partner
Clean up my tags
Update my layout
Update my reading challenges
Update my Goodreads profile
Write a review policy
Clean up TBR spreadsheet
Relatively short list, but I know some things on there are going to be time consuming, and time is the one thing I don't have a lot of this weekend - my husband is coming home from a week-long business trip tomorrow, so of course I need to spend a bunch of time with him. He's wonderfully considerate of my blogging (it's a trade off - he indulges my blogging and reading habits, I indulge his gaming habits) but after a week away we deserve some non-computer time on a Saturday night!
Of course, that should leave all of Sunday free for blogging...
Good luck to my fellow bloggers - I need to return to that pizza slice before the pigeons or squirrels decide to steal it from me!