Review copy received from publisher
While wandering through the exhibits at ALA, I came across the small but bright booth for
Zest Books
. I chatted with the reps in the booth and I think we were both equally excited to find someone else who loves YA nonfiction that doesn't look like required reading. Looking at what was on display, I rattled off a list of books that looked interesting and was promised that a box of goodies would be on its way shortly. So now I have a month's worth of Nonfiction Monday books, courtesy of Zest, and more on the way!
Sex
is the first Zest book I've read, partly because it's the most recently published out of the books I received, and partly because, well, who can ignore a book that promises to be "an uncensored guide to your body, sex, and safety." You gotta admit, it's an eye catching book, and it looks way different from the sex ed books and websites I relied on as a teen, which were usually color coded pink and blue (hot pink and royal blue for the "hip" and "edgy" resources, but still very gendered).
Sex
is chatty, funny, informative and non-judgmental.
Nikol Hasler translates everything the
Midwest Teen Sex Show
has been doing via webisodes into this catchy book.
This is a wide ranging and comprehensive book. The sort of book that is going to freak out some parents, which will just make teens want to read it even more! Aside from giving the ins and outs (heh) of heterosexual vaginal intercourse, there's also sections on anal and oral sex, sexual orientation, kinks and fetishes, as well as the standard chapters on anatomy, STIs and STDs and birth control.

I like that the chapters are arranged thematically, rather than by who might get the most use out of them - this means the anatomy chapter lays it all out there, rather than having a clearly delineated "girl section" and "boy section" (it's obvious when discussing sexual anatomy, but then there's sections on body hair and physical exams). The short intro makes it clear that even if you don't own a penis or vagina, if you ever want to be near one you should have an idea of what's going on, and mixing everything up makes it harder to skip over something a reader might think is gross, uninteresting, or unnecessary.

While the text of the book is very open and accepting of all sorts of sexuality and orientations, I found the illustrations to be extremely heteronormative. There are only two illustrations in the entire book that are clearly about homosexual experiences, and both include two guys (one is an illustration connected to a section on bisexuality, so it's a boy standing between a girl and another boy). Any other time there is a pair presented, they're a heterosexual pair. Even when characters are presented alone, there will sometimes be speech bubbles indicating the character is in a heterosexual relationship (for example, in a chapter on dating, next to a question about parents who dislike your girlfriend, is a cartoon of a frustrated boy yelling "But I love HER!"). A little thing? Yes. But if this bisexual adult woman notices it, I bet there are lots of lesbian and gay teenagers who already feel marginalized that will be feeling the same way. Thankfully, the text doesn't have the same inclusion problems, as it even spend time on trans issues, defining transgender, transsexual, transvestite, and cisgender - all topics that rarely come up in other conversations about teen sexuality.

I really enjoyed the sex-positive tone of the book. There's lots of emphasis on loving yourself (physically and emotionally) before hooking up with someone else. The right to say no is repeated emphatically, though I would have liked to see more mentions of the right to change your mind and say no even if you've done a particular sexual activity before. Experimentation is encouraged, so long as it's done safely (autoerotic asphyxiation is mentioned with a big DO NOT TRY warning, and BDSM is explained briefly with the caveat that it's not really appropriate for teens). What's great about this tone is that it doesn't condescend to teenagers or think it's inappropriate for them to have a working knowledge of these activities. The philosophy seems to be that it's better for teens to have a working knowledge of these activities and safety warnings before they decide to try it themselves with dubious information gathered from the locker room or the internet.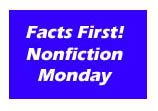 Today's Nonfiction Monday roundup is being hosted by Abby (the) Librarian. Check out all the other great NF books being talked about today!