Found via:
Read Roger
More poetry! But I'm not too bothered I couldn't fit this in to National Poetry Month, as this collection is all about mothers and daughters. Well, three specific pairs of mothers & daughters: Laura Ingalls Wilder and daughter Rose Wilder Lane, Madame C.J. Walker and daughter A'Lelia Walker and Marie Curie and daughter Irene Joiliot-Curie. A perfect post-mother's-day book!
1867 was apparently a banner year, as that is the year the three mothers highlighted in this collection were born. The book is divided into three sections, each focusing on one mother/daughter pair, chronicling the daughter's life as she grows up, watching her mother, learning from her mistakes, and gaining inspiration for her own life. For the daughters are no slouches either: Rose Wilder Lane was a journalist and a biographer before helping her mother turn stories of her childhood into the
Little House
series; A'Lelia Walker used the fortune she earned as part of her mother's company to support the
Harlem Renaissance
; and Irene Joliot-Curie joined her mother as a WWI X-Ray technician, saving countless lives, before earning her own Nobel Prize, following in her mother's footsteps by studying radioactivity.
The poetry is well done, as is the biographical content. While I'm no expert on any of these women, Atkins doesn't pull any punches and shows both the ups and downs in these women's lives, including a troubled marriage for Rose and the sexism of the Nobel committee. This bit stuck out for me:
She remembers them taking a train to Sweden
where a woman might earn the Nobel Prize
but would be kept from speaking on the stage
Borrowed Names page 149
It's subtle but spot on, in the way that only poetry can be.
This is the sort of book I would have loved to have available for
Ada Lovelace Day
. Maybe someone else will pick it up for review next year. While I don't think this would be a replacement for a full biography on any of these women, it's certainly an interesting supplement, and really breathes life into these families in a way a standard biography never can.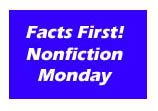 Nonfiction Monday is hosted this week by Picture Book of the Day. Check out other great non-fiction posts going up today!