I was given today off of work at the last minute (which is why I'm at home in my PJs blogging from my couch rather than at the Book Blogger Con across town!). So while I'm bummed I'm not at the con, I am glad I've finally had a chance to jump in to the Book Blogger Hop!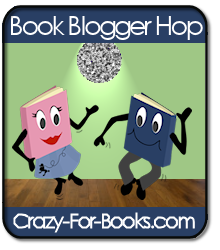 Hosted by Jennifer at
Crazy For Books
, the Book Blogger Hop is a "weekly book party [and] is an awesome opportunity for book bloggers to connect with other book lovers, make new friends, support each other, and generally just share our love of books!"
Here are the new blogs I found this week:
Mel's Books and Info
- Drew me in with her review of Birthmarked (I
reviewed
it last week)
The Bodacious Pen
- has an awesome blog title ('bodacious' will always remind me of
Teenage Mutant Ninja Turtles
, which is awesome) and has a lot of interesting discussion posts. She's been doing Armchair BEA this week and definitely has some interesting stuff to check out!
A Reader's Adventure
- I'm always love finding YA review blogs that are written, y'know, by teenagers. I'm always amazed that most of the bloggers I read are fellow adults. Yay for teen bloggers!
If you're here via the hop, please leave a comment! I'd love to meet you! As a heads up, I'm hosting my first giveaway this week:
a signed copy of Gringolandia
. Open to anyone in the US - just answer a fun question in the comments!