So in the rest of the world, it's an exciting day. Clearly it's Valentine's Day, and also the
Cybil Award
winners are announced today. And what am I posting about? A slavery book. My timing, it's not excellent. Sorry for being a downer!
This is a much more in-depth look at slavery than the books I'm used to. For one, it has a much wider focus - most accounts of slavery I see are focused on the African slave trade and how it relates to US history - so a relatively short period of time and a geographically focused story. This one, as the title says, covers five thousand years of history, from the ancient Egyptians and the pyramids, to 21st century textile factories in Asia.
This is a heavy book, not just because of the subject matter, but because of the detail as well. This is 160 pages of dense text all about one of the worst aspects of humanity that has followed us across cultures. And even in those 160 pages, stuff gets left out; the examples of slavery are very Western-oriented (accounts of slavery in Asia aren't picked up until European colonization in the 18th and 19th centuries), and some types of abuse are glossed over (not only was rape a constant threat for female slaves, but sex trafficking, a common form of modern slavery even in the United States, is never mentioned). You'd probably need a set of encyclopedias to fully examine the horrific history of slavery, but these two omissions stood out for me. It doesn't detract from the value of what is there, but especially where oppressed groups are concerned we need to keep in mind which stories we
aren't
reading.
Because of the Western-bias, some of the book starts to feel a little repetitive. British slave traders didn't vary their tactics much, whether the slaves were being transported to the US or Southeast Asia. I can see this being more useful in spurts than as a book to just sit down and read.
I also have to critique one design element. I can't stand sidebars and other pull-outs from the narrative that span multiple pages - in order to get the full anecdote I need to stop reading the main text, flip forward a page to finish reading the sidebar, and then go back to the main text again. This book is filled with sidebars of specific examples of slaves' lives, and that's awesome - except when I have to flip the page to get the rest of the story. And then in the final chapter there's a sidebar that takes up the margins from page 153 until 156. It's an important story (of
Iqbal Masih
and
Craig Kielburger
), but the formatting of it was irritating. If your "sidebar" is going to take up
four pages
, maybe you need to figure out a different format for the story.
I know that seems like a lot of critiques, but I really did find the book worthwhile. I only critique it because it's so good at so much, that I can only wish it went further! Slavery is truly horrifying, and I think it's so important to hit home the point that just because the US had the Emancipation Proclamation doesn't mean the
peculiar institution
has ever left us, in the US or abroad.
Five Thousand Years of Slavery
does an excellent job of introducing this fact, but clearly the emphasis on slavery in the past (or away from the US), shielding readers from the uncomfortable knowledge of what often goes on here, right under our noses.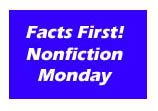 This week's Nonfiction Monday is hosted by
Wrapped in Foil
. Be sure to stop by and check out the other great nonfiction titles highlighted this week!