Found via:
Maw Books
On the last day of 2008 I posted my review of
Rapunzel's Revenge
and noted at the end that a sequel was in the works...a sequel which I totally forgot about until I saw Natasha's post at Maw Books about the launch party for
Calamity Jack
!
Luckily for me, my library shipped this to me right away...as opposed to the
two months in transit
another book took.
Not that I'm impatient or anything.
Calamity Jack
opens with some brief bits of biography of Jack's early life as a budding criminal mastermind, before picking up the story where
Rapunzel's Revenge
left off. In the first book, Jack was the one who was off balance, as the West was Rapunzel's turf. Now the dynamic duo have returned to Jack's hometown, where he hopes to settle a score with the giants in charge and repair the damage his beanstalk did to his neighborhood and his mother's bakery.
When Jack left, the local giant Blunderboar was a gangster bully who had his hands in several cookie jars. When Jack returns, he finds out that Blunderboar has been busy, gaining city contracts to use his personal giants as a supplementary police force in the face of intermittent attacks from giant Ant People that keep invading the city. He's also holding Jack's mother prisoner as his personal baker (he always requires she use special flour...that's probably made of human bones) and has placed a bounty on Jack's head.
Jack is more determined than ever to make good on his promises to his mother, but it's clear he's going to need more help than just Rapunzel. Jack teams back up with a former colleague, Prudence the pixie (who has a love affair with hats like I have with shoes), and Frederick Sparksmith the Third, a slightly naive newspaper man who ran the last press that dared to oppose Blunderboar until the presses were destroyed in an attack by the Ant People. Everyone has their own skills that will have to be at their sharpest in order to save the day.
I think I enjoyed
Rapunzel's Revenge
more than
Calamity Jack
. The first story was much more of a straight-up adventure/quest story - while
Calamity Jack
has lots of introspection and angst. Also I got a little annoyed with how overprotective Jack was of Rapunzel - sure, she's never been to "the big city" before, but do you really think this woman is incapable of taking care of herself? And I did appreciate how at the first chance she got she was out of the clumsy dress and into sensible pants.
I think I just really wanted another Rapunzel story!
Cover thoughts: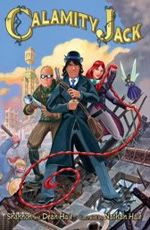 Rapunzel's Revenge
and
Calamity Jack
both take place in an Old West-style fantasy world, and as part of that world there are Native American peoples. Jack is clearly intended to be read as a Native American (even if in this world the term 'Native American' doesn't exist - it hasn't ever been said this is
America
we're in!) and is shown as such on the cover! Interestingly enough - the infamous Bloomsbury is the publisher on this one. I'm sure part of the reason everyone is portrayed accurately on the cover is because the illustrator throughout the text also drew the cover.