Back in November after I attended the
Children's Literature Cafe
on the Cybils, and again in December when I reviewed
Liar
by Justine Larbalestier, I mentioned the cover controversy surrounding the book, namely that the US publisher, Bloomsbury, had initially chosen to put the image of a white girl on the cover when Micah, the protagonist, clearly emphasizes that she has dark skin with nappy hair. When the blogosphere caught sight of the cover, bloggers were outraged and the outcry convinced Bloomsbury they should have a cover that more accurately reflected Micah.
After that outrage, I think most of us settled back and felt assured that while we hadn't solved the problem of whitewashing characters of color on the covers of YA novels, we had at least made a dent in the problem and that Bloomsbury would firmly be on our side in the future.
Well, according to
Reading in Color
, the problem is far from over. It turns out that
Magic Under Glass
by debut author Jaclyn Dolamore has a dark-skinned protagonist from the Far East.
And then the cover is this: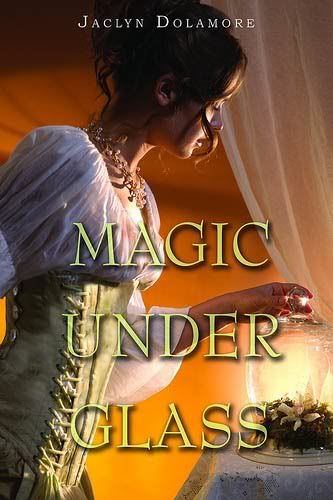 This isn't good, Bloomsbury.
Unfortunately, it looks like us bloggers didn't make it to this title in time - it's already in print. Actually, as Ari points out at Reading in Color, even when bloggers did get their hands on this one, we were slow to point it out: Ari has seen several reviews of this title that didn't mention the discrepancy.
So while I hold Bloomsbury highly accountable for this cover, I also have to say that the blogosphere seems to have fallen down on the job a little bit as well. At that Cybil's panel in November there was a lot of patting ourselves on the back because we (bloggers in general) got the
Liar
cover changed. Well we absolutely can't be complacent here - Bloomsbury has proven that they aren't going to change their marketing strategy unless their feet are held to the fire. While we can't catch every single title before it goes to press, I think we do have an obligation to comment when a cover egregiously doesn't match the main character. Sure it's mildly annoying when a character is described as a brunette and then there's a blonde chick on the cover, but hair color can be changed with a box of dye. Skin color and ethnicity can't be, and those identities are integral to a person, whether they're a fictional character or a teenager looking for a representation of herself in the bookstore.
I don't pay all that much attention to covers here - cover art has to be either outrageously good or outrageously terrible to attract my attention. But I'm promising that from now on I'm going to pay closer attention to covers, especially those on books about people of color, and recognize both the good and the bad. It's easy to pile up in righteous outrage when someone screws up, but it's also important to recognize when someone does well. I encourage the rest of you to do the same; not all of us have access to early galleys and not all publishers will be willing or able to change a cover before the first print run, but we can take a stand and start making noise now so that racefail like this becomes rare, rather than an all too common occurrence.
Edit: Slowly but surely, others are adding their thoughts! Here's links to some other posts and conversations that are happening.
Jen at Multigenre Fan:
Covers That Lie, Yet Again
It's easy to put up a blog post commenting on how you don't like something or wish something was different. But actually doing something about it takes effort. I promise to try harder this year. If something isn't right I'm going to say something about it.
Nymeth at Things Mean Alot:
Again
But all this aside, I think that when having these conversations it's much more useful to focus on consequences than to speculate about intentions. No matter what the intention was, the message sent out to teens of colour is the same: they're being told they don't matter. If racism were only ever perpetrated by people who set out to be malicious, it would be a much smaller problem than it is.
Ah Yuan at GALNovelty:
Stop Failing Bloomsbury
There are other publishing houses starting up that BELIEVE in diversity (such as TU Publishing and Verb Noire) and I believe my money will be better spent there
Susan at Black Eyed Susan's:
No Magic for Bloomsbury
The Industry behaves in part based on what the consumer accepts. It is time to call out peers for failing to stand up for what's right. I'm not talking name calling, I'm talking about publicly calling on our peers to speak up, asking YA bloggers to join us in promoting POC writers and denouncing unfair practices at publishing houses.