Late in '09 I found out about the existence of reading challenges, where you set a goal for yourself to read a certain number of books about a certain topic within a time frame. I like the idea of having another way of keeping track of what I'm reading, and sharing those books with a community of like minded people.
Women Unbound
is my first one!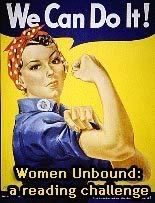 Probably the best part of this challenge for me is that, even though I'm starting a few months late, I really don't think it'll be difficult for me to complete the suffragette level - read eight book, at least three of them non-fiction. Books that meet the qualification are those that can fall under the banner of "women's studies."
This is going to be fun!