Last year I absolutely loved Tanya Lee Stone's
Almost Astronauts
, about the American women who trained to fly the space shuttle. This time around, Stone has set her sights on something far more down to Earth, something that almost every woman had her in childhood bedroom over the last fifty years: Barbie.
Stone takes a methodical look at the history of Barbie, from her creator's early beginnings through the creation of Mattel and the first Toy Fair where Barbie was set to make her big debut - and flopped. Who would have imagined this ubiquitous doll would, at one point, have been totally shunned? The toy buyers at the time were almost all male, and couldn't imagine that a mom would ever buy her daughter a toy with breasts.
From there, Stone looks at the evolution of Barbie, noting when her friends and family appeared on the scene and when she finally deviated from the blonde-haired blue-eyed original to represent girls of various ethnicities, and the criticisms that quickly followed and dog Barbie to this day. Stone fills the book with quotations from girls and women, giving their true feelings on Barbie, from young girls who are genuinely angered by how Barbie doesn't reflect them to older women reflecting on how they mutilated their dolls - not out of anger, but just for fun!
Stone also looks at the art that Barbie has inspired, from altered dolls to sculpture and painting to jewelry and short films. For better or worse, Barbie is an icon that had a lot of cultural cachet.
Stone takes a very even-handed look at this often-controversial doll. There are both young girls and grown women who hate Barbie...and then there are young girls and grown women who love Barbie, and all of them have a say in this book. The most interesting part for me was the development of, and the reactions to, non-white Barbies. For some girls, it's great to have a Barbie that looks at least a little more like them, but for others its still frustrating because so often the only change was the pigment in plastic - it wasn't until 2009 that Mattel even attempted more African-American hair textures and styles with the So in Style dolls.
I also loved the look at how girls (and their brothers) will destroy their Barbies. When I first heard about kids doing this, I was horrified - I could never even bring myself to cut my Barbie's hair when I was a kid, let alone pull her apart and dye her hair with food coloring. But I had issues as a kid - usually I never got much farther than dressing all of my dolls up. I had at least a dozen and was convinced I needed to play with them all equally, but by the time all of their outfits had been changed...I wanted to go do something else!
The book does focus on the more "real world" aspects of Barbie - concerns over girls wanting to look like her, and questions about how she's styled for her various careers (at one point apparently Surgeon Barbie was in a scrubs mini dress) or ethnicities, but nothing about the more fanciful aspects of Barbie, like all the times she's been some variation on a princess (I realized this as I was thinking about my own Barbies - I had two collector's editions, one Native American Barbie and the other Barbie as Rapunzel). I suppose when the doll has had over 100 careers, you have to leave something out.
Stone neither praises Barbie nor demonizes the doll. She lays out the evidence for the reader to draw her own conclusion. I doubt a hard core hater or lover of the doll will be swayed away from their beliefs, but for someone like me who is more ambivalent about the doll, it raised a few new questions to consider while helped me put some other concerns to rest.
The Good, The Bad and the Barbie
will be published on October 14th.
With all the talk of Barbie mutilation in this book, I'd love to hear how you played with Barbies as a kid! Were they tortured or prized? Did you collect them by the dozen or only have a prized doll or two? Was there something else entirely you liked better than Barbie? For the guys, were you forbidden from playing with Barbie, or did you never have an interest outside of torturing your sisters' dolls?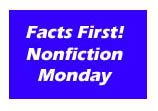 Today's Nonfiction Monday is hosted by Madigan Reads. Stop by to see all the great nonfiction being reviewed this week!
Reviewed from ARC picked up at ALA.