Found via: the Amelia Bloomer Project
The full title of this book is
Curveball: The Remarkable Story of Toni Stone the First Woman to Play Professional Baseball in the Negro League
. Can you see why I abbreviated it?
Today is Labor Day in the US, the traditional marker of the end of summer. While baseball continues for a few more weeks before the World Series, since it's considered a summer sport I thought a baseball biography would be an excellent way to finish out the season.
I've mentioned my love of the game on here a few times, but I have a confession: I don't know much of the history of baseball. My dad knows a ton, at least when it comes to his favorite team, the Braves (boo!), but I tend to focus on the contemporary game. This is probably because a) while I enjoy baseball, my love of the game doesn't run terribly deep and b) when it comes to history, I tend to stick to women's history. Since women have historically been excluded from baseball, the means most of my baseball history concerns the
AAGPBL
. When I saw this book nominated for the Amelia Bloomer list, I knew I had to read it, since I knew nothing about Negro League baseball, and especially didn't know they'd had a woman play!
Marcenia Lyle Stone, aka Tomboy aka Toni, grew up in Minneapolis in the 20s and 30s and loved nothing more than baseball. She worked hard to prove her stuff and with a bit of persistence and cajoling, she played throughout her childhood on neighborhood boys teams - even going so far once as to knock a decade off of her age in order to qualify for a baseball camp taught by a former pro player!
The odds were stacked against Toni, and she knew it. Not only was she a woman who wanted to play a man's game, but when she was first trying to break into just the minor leagues, baseball was a white man's game - it would be a few years before Jackie Robinson broke the color barrier. But Toni didn't let her race or her gender hold her back, and she made it on to some of the top ranked teams in the Negro League, just as the league was beginning to die out as segregation was eliminated in Major League Baseball and their minor league farm teams.
This is an amazing biography - as I tweeted after finishing the book, Toni Stone is my new hero. Gutsy might be the best adjective for her. Determined. Tenacious. She is an excellent example of what you can accomplish if you follow your dreams, but her story also emphasizes that those accomplishments only came after years of hard work and dedication. Nothing was easy for Toni Stone.
This is also an excellent history of baseball and Jim Crow laws in the mid-century South. There's lots of anecdotes about the history of the Negro Leagues as well as stories from some of the first black Major League players like Jackie Robinson and Hank Aaron that are sure to appeal to any hardcore baseball fan. I had no idea that much of the Negro League play was in the form of Barnstorming matches, where a team would travel all across the country playing exhibition games, making their season stretch from April to November. It makes modern baseball look like a luxury cruise!
Toni spent a lot of her professional time in the South, first as part of her time as a Barnstormer travelling through the region and then playing semi-pro with the Louisiana Creole team. As such we get a first hand view of the terrible and ridiculous Jim Crow laws that were in place. Legal action was threatened in some states if a Negro League team played a white team - or even an integrated team (Jackie Robinson led a touring all star team, made up of white and black players). I have to admit, I never realized how much Jim Crow laws could affect whites as well. I don't say this as some sort of derailing, "racism hurts white people too!" comment, but rather as someone who is realizing in a new way just how much those laws were rooted in fear and hatred. I thought the laws were simply to keep Black people "in their place" while whites had free reign and could go anywhere and do whatever they wanted, but at least when it came to baseball, even if they wanted to play together, the law said they had to be kept strictly separate.
What a scary and terrifying time it must have been.
This is definitely a must-read for any baseball fan or sports history buff. It's an adult title but relatively short (less than 300 pages with a hefty bibliography/notes section in the back) and perfectly appropriate for high school or middle school student suddenly stuck inside for school when she'd rather be playing ball!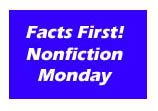 This week Nonfiction Monday is hosted by The Miss Rumphius Effect. Be sure to stop by and check out all the other great nonfiction posts this week!