Sid Jacobson and Ernie Colon are making a career for themselves out of adapting stories to graphic novel form. I first became aware of them with their graphic adaptation of
The 9/11 Report
. Since then they've looked at the War on Terror and written a biography of Che Guevara. Now, with the blessing of the Anne Frank House, they've put together a biography of the Holocaust's most famous young victim: Anne Frank.
Jacobson and Colon go back to the 1920s, when Anne's parents met, to give Anne's brief life a history and context. Both of Anne's parents were well-to-do members of society, with her father working for the family bank and serving honorably in World War I. The book briefly covers their early lives together and the birth of Anne's sister, Margot, before bringing Anne herself into the story.
Anne had a happy childhood, filled with loving friends and family, that was unfortunately marred by increasing hardship, thanks to the rise of the Nazi party in Germany, ultimately leaving the family no choice but to move into the famous Secret Annex.
Jacobson and Colon do an excellent job of putting Anne's life into the context of the greater war that was being waged first in Europe, and then around the world. Periodic "snapshots" take us to important events, giving us a quick synopsis of the events and their aftermath (for example, the new restrictions placed on Jews in German-occupied territories after Kristallnacht). World maps also quickly and clearly identify that allies and axis powers as well as their colonies and territories throughout the world. The visual nature of the graphic novel is really utilized well here.
This biography is also extremely powerful when it comes to illustrating what happened after the family was discovered, grimly detailing the family's days in various concentration and extermination camps. Jacobson and Colon pull in references from other prisoners who knew Anne, some who knew her both before the war and were also imprisoned with her.
The graphic novel format is perfect to bring Anne's story to a wider audience, and one that works for all ages. This could be read by children who are just being introduced to Anne Frank (I think I first read her diary in fourth grade), or older students or adults who are re-visiting the era. The format is used extremely effectively, as I found it easier to understand the timeline of events and to connect Anne's life with what was happening in the rest of the world easier than ever before. It's a quick read and while not the most exhaustive biography of Anne Frank ever, it's a great introduction to a powerful story.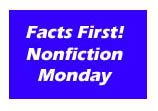 This week's Nonfiction Monday is hosted by Wrapped in Foil. Be sure to stop by and check out all the other great nonfiction books this week!