Found via: The Amelia Bloomer Project
In elementary school, I loved stories about Calamity Jane and Annie Oakley. The Wild West was intriguing and exotic, and here were two women who made their own way through a rough and tumble world that was otherwise dominated by men! What wasn't there to like?
Unfortunately, Jane and Annie were my only exposure to cowgirls and western women in general. I think in
middle school I learned about Belle Starr, but in a context that implied she probably did little more than run a safe house for male outlaws. Holly George-Warren is here with
The Cowgirl Way
to correct that bit of misinformation (she may have run a safe house, but she really did get up to all sorts of outlaw trouble on her own!), and show how wide-ranging cowgirl life could (and still can) be.
This is a light biography, with chapters devoted to "Women of the Old West," "Outlaws and Rebels," and several variations on cowgirls in entertainment, from wild west shows (starring the likes of Annie Oakley) and rodeos to singing cowgirls and cowgirls on TV and in film. This organizational set up gives us a great overview of the varieties of cowgirls that have captured the American imagination in the last 100+ years, but doesn't leave room to delve very deep into any one story. Personally, I also would have preferred more focus on what western life was really like, rather than an emphasis on cowgirls as entertainment, but that's a minor complaint.
I mentioned back in my
women's history month
post that I was disappointed in how often women's stories were relegated to March, and this would be an excellent book to use to illustrate parts of western life from a different perspective. The first chapter, "Women of the Old West" is a perfect illustration of how harsh conditions in the west when America was expanding necessitated women taking on roles that were considered improper back in the east. Clothes, riding sidesaddle, and the eventual right to vote (won in Wyoming,
fifty years
before the 19th amendment would be passed, granting the right to all women in the country) are all mentioned.
Also, I need to start keeping a list of off-the-beaten-track museums I want to visit some day. Did you know there's a
National Cowgirl Museum
? It and the attached hall of fame are mentioned in the closing chapter, "Twenty-First-Century Cowgirls." If I ever make it to Fort Worth, I'm definitely hitting it up!
While I'm now hungry for more cowgirl knowledge, this is definitely an excellent book to stoke curiosity and a jumping off point for more in-depth reading on the women of America's west.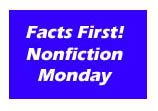 Nonfiction Monday is hosted this week by Rasco from RIF. Be sure to stop by to see all the great nonfiction titles being shared this week!