I'm kind of a bad English major - I've actually never read one of Edith Wharton's novels. So why did I pick up this biography? Because even if I haven't read her work, I'm still fascinated by women who defied social expectations and made a career for themselves - and Edith Wharton was certainly one of those women.
Born into a wealthy New York family, Edith lived a charmed life from an early age, especially as she spent most of her early years in Paris. When she and her family returned to New York, it was at a time of social upheaval, as the old guard of society was clashing with the uppity new money folks, who had made their money off of coal or railroads, rather than inheriting it as Edith's parents had.
While her mother was heavily invested in maintaining the old ways - notably including the notion that a woman's name should appear in print only when she is born, married, or has died - Edith rebels subtly. Obsessed with the written word, Edith writes mostly for herself for years before finally striking out to publish her works publicly - and under her own name.
Wooldridge has put together a fascinating look at this woman who was well ahead of her time. Not only did Wharton not much for social conventions against writing, she also made waves for socializing primarily with men in Parisian literary salons, spurring on the modern interior decorating movement, driving fast cars, and organizing massive relief efforts in Europe during World War I. But despite these trailblazing efforts, we also get glimpses at her weaker moments, too - her self-doubt about the quality of her writing, and the painful deterioration of her marriage and love life. The book is also peppered with plenty of period photographs and copies of Wharton's letters and manuscripts, really bringing the era to life. Living in New York myself now, I'll admit I was entertained to discover that I now work in the same neighborhood that Edith Wharton lived in when she was young - and chuckled at the idea that 59th street was so far up town that her family was worried they wouldn't be able to safely visit a family member that had moved there.
This is a lovely book, and I wouldn't really want to change anything about it, but reading this out in public was a little unwieldy, and it made me realize that almost all YA nonfiction is in a larger format than novels, or even a lot of nonfiction published for adults. Now, some books absolutely require large pages for pictures and for multiple pictures to be included right alongside the text in order to do the subject justice -
Frozen Secrets
and its amazing panoramas of Antarctica as well as its charts and illustrations of complex scientific facts comes to mind - but why must a biography be in the same oversized format? It makes it more difficult to bring the book along for reading on the go. Anyone out there know why all teen nonfiction falls into this format?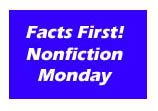 This week's Nonfiction Monday is hosted by Picture Book of the Day. Be sure to stop by and check out the other great nonfiction titles highlighted this week!