Found via: Amelia Bloomer Project and Bookends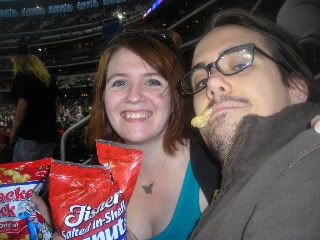 (My husband and I with our peanuts and Cracker Jacks at the Mets vs. Marlins game on 9/9/09. Marlins won, 6-3, much to my husband's chagrin!)
For several summers during elementary and middle school, my nightly ritual involved playing catch with my dad in our front yard at dusk. Dad taught me everything I know about baseball, and our nightly games of catch were about the only time we could be together and not end up in some sort of fight. Eventually simple games of catch became learning how to pitch for real, and I developed a pretty good fastball - I was even planning on being the first woman to pitch in the major leagues some day - until Dad informed me that gender discrimination laws don't extend to professional sports.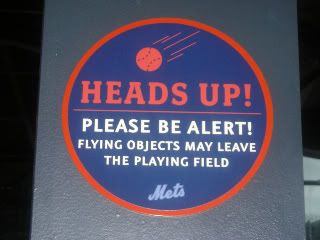 (Never would have needed this sign if I were at bat - while I could pitch I was a terrible batter, at least when we played softball in gym class)
Luckily for Molly in
The Girl Who Threw Butterflies
, her dad wasn't the downer that mine was. When Molly asks if a girl could ever play baseball, he initially says no, then backs up and says she could probably be a pitcher. And proceeds to teach her how to throw a beautiful knuckleball (personal note: my dad would never teach me the knuckleball. Said it would hurt my arm. I have no idea if this is true - it never comes up for Molly. No, I'm not still bitter ;-)
Molly and her mother are now grieving the loss of Molly's father in a car accident. The next spring, as sports season approaches, Molly decides it's time to stop playing softball, and use the baseball knowledge her dad taught her to play ball with the boys.
Cochrane has crafted a very nuanced book, that perfectly balances the sadness of a girl missing her dad with the exhilaration of playing a sport well and defying the odds. Molly meets some resistance from some of her teammates, but it never overpowers the rest of the story - it's there to add some drama, but never distracts from the main drama of Molly's coming of age and playing the game. Also done excellently was Molly's best friend Celia, middle school feminist and one of Molly's two biggest supporters in her baseball quest. A must read for baseball fans!
(Can't post the picture here, since I'm not willing to actually pay for this, but one last baseball photo: me, my husband, and my parents at the Mets/Marlins game, posing with the foul ball my dad caught!)