My first Speak Out With Your Geek Out post ties into the Nonfiction Monday theme, so I figured I'd combine the two in the name of efficiency! First the review, then the #speakgeek post.
Before I had a car, my bicycle was my life. Since third grade I lived close enough to my schools that the district didn't provide a bus, so any time there wasn't snow on the ground, my bike got me to and from school. When a new branch of the library opened up in my neighborhood, my bike delivered me to air conditioned and full-of-books bliss on a daily basis. But despite the way the world opened up for me when my parents let me start biking off by myself, I never considered how the bicycle was once a political statement.
Sue Macy opens up this fascinating element of women's history in an inviting and easy to understand way. It's an excellent way to introduce teen readers to the history of women's rights, because the bicycle is such a universal experience, even in our modern lives. I imagine few people living today can even imagine what it would be like to not be allowed to ride a bicycle - either because it's considered unseemly for a young lady, or because her clothing was too constricting to allow for such physical activity.
Macy examines how the bicycle was truly revolutionary for women. They suddenly had a way to transport themselves without relying on anyone else. The popularity of bicycles first encouraged ingenuity in their design (side-saddle bikes, with both pedals on the same side!), and then encouraged greater acceptance for dress-reform - everything from split-skirts to abandoning corsets.
The only thing I was left wanting more of was more information about the evolution of bicycle design. The book never did answer why on earth early bicycles had those ridiculous giant front wheels.
The book design is engaging and fun - all of the pictures are presented in big circles, mimicking bicycle wheels.
Any book that calls attention to women's history is going to be a big plus for me, but one that does so in an engaging and unique way is even better!
Review copy provided by Media Masters Publicity
.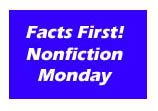 This week's Nonfiction Monday is hosted by Wrapped in Foil. Be sure to stop by and check out the other great nonfiction titles highlighted this week!
---
Speak Out With Your Geek Out - Day 1: Nonfiction Books!
I'm hoping to have a post for
Speak Out With Your Geek Out
every day this week. I'll post any that are book related here, and will provide links on either
Twitter
or
Google+
for ones that are non-book related. Tomorrow on my husband's and my
podcast
we'll also be highlighting the event - I'll probably do some book-talking in there, too!
Since I'm getting back into the swing of blogging with Nonfiction Monday, I figured I could start of this week of geeky celebration with a short ode to nonfiction books.
Before the Nonfiction Monday meme started, I certainly liked nonfiction books, but they weren't terribly high on my radar. When I was a kid, I was all over the fiction section - it took a pretty special subject to get me to wander into the nonfiction section of the library. Nonfiction books were associated with research and school projects. I didn't get an excuse to read fiction for school very often, so my pleasure-reading time was reserved for fiction.
But now as an adult, I don't know what it is, but I've discovered that I absolutely love nonfiction books. If I wanted to sit back and psycho-analyze it, it probably has something to do with my relatively unstructured adult life. There's no more research papers, no more group projects, no more speeches that need to be written, so I'm not getting a constant nonfiction-fix elsewhere. But just because I don't have any assignments to turn in any more doesn't mean that I don't crave those days of fact-finding. So now any time I hear about the existence of a nonfiction book that sounds even remotely interesting, I search it out.
What nonfiction am I reading right now? Unfortunately it's all adult - there really does seem to be a gap in nonfiction for young adults. So much of it seems to be either way too young, or so dry it's clearly only intended for classroom use. I'm still plugging through a biography of Charlotte Perkins Gilman (author of the famous The Yellow Wallpaper, which just changed my life in high school), and I just started Super Mario, a history of Nintendo. On the waiting list at the library is the autobiography of nerd-hero Simon Pegg.
Not only do I wish there was more nonfiction out there for young adults, but I wish more was coming out in more "adult" formats. Sometimes the oversized books filled with pictures are necessary - I liked the set up in
Wheels of Change,
after all, and I absolutely loved the design of
Frozen Secrets
. But the format doesn't lend itself well to taking the book along in a purse, or even a backpack where space is at a premium. I haven't done any research, but it sure feels to me like nonfiction could grab some more readers if it was in the more-familiar novel-size format. It'd look like a novel, and even look more like the adult nonfiction books I've been getting, but not necessarily as dry and bogged down with footnotes as adult nonfiction can be.
But all isn't dark for young adult nonfiction - in fact, I think it's getting better than ever, just like the young adult genre as a whole is! Since starting this blog, I've discovered nonfiction books that have sparked passions I didn't even know I had - Antarctica is now fascinating to me, and it's all because of some excellent nonfiction finds that I want to write a novel set during the US
civil war
.
Do you love nonfiction? What are you a geek about? Let me know if you make a post for Speak Out With Your Geek Out (whether it's book-related or not) - I'd love to see what else people are geeking out about this week!