Once again, this is a spoiler-free Mockingjay post. Want to discuss the book? Check out the comments on yesterday's post.
My first encounter with Books of Wonder was back when
The Hunger Games
was released in fall of 2008, so it was only natural that I would return to the store for the release of
Mockingjay
- especially when it was revealed that we'd have the party with Suzanne Collins herself in attendance! How awesome!
Because I'm an adult and thus supposed to be a productive member of society, I couldn't get my party on until after 5. The party didn't start until 8, and of course we wouldn't get our hands on the book until midnight, but there were folks parked in front of the store from 3:30 on. I arrived at 5:10 and quickly hopped in line. To the right is my crappy cell phone view of the line. I guessed that I would be the 30th person or so to receive a book - with a lot of teens and younger kids already in line it was hard to tell who was there just for their kid or to claim a book for themselves! Unfortunately, my number turned out to be double that, thanks to poor line-manners throughout the evening.
The weather was overcast and occasionally drizzly - but I was fine since I was under some scaffolding. All I could think of was how happy I was that the heat had finally broken though - I can't imagine what it would have been like to be standing on that line in the 80-90 degree heat NYC has been having for the past few months!
Everyone in line was chatty, which made the wait much more bearable. Some people had come more prepared for the wait than others, however. I dubbed this the
Mockingjay
internet cafe. By eight o'clock, the line stretched all the way down the block! I don't know what the final count was for the night, but I heard Peter Glassman, owner of
Books of Wonder, say it was going to be anywhere from 700 to 1500. Certainly more than 300 people showed up, as I saw tickets to get our books stamped numbered that high.
Finally, promptly at 8 (thanks for that, Books of Wonder!), the doors opened and we were ushered inside, divided into two lines, one for those of us who pre-paid, and the other for people buying on site. All of the pre-release buzz from Books of Wonder had been urging us to pre-pay because that line would go quicker and so we'd get lower numbers for the signing/stamping. Apparently Monday was opposite-day, however, because the pre-pay line was incredibly slow. Second bummer of the night (the first being the blatant line jumping). However, there was some entertainment for us standing on line - jugglers! What do jugglers have to do with the Hunger Games? The only thing I can think of is the metaphor of bread and circuses (or
panem et circenses
in Latin) and so we took the circuses part literally, bringing in the jugglers and magic tricks. The face painting you can make a pretty direct correlation with the camouflage and the make up and the morphlings from
Catching Fire
, and the tarot cards are tied to fate, so there was a variety of stuff to try to do once you finally made it through the line to pick up your raffle tickets, signing ticket number, book voucher, and some printouts of Hunger Games crosswords and word searches as well as non-Hunger Games related promotional swag to fill out the bags.
Books of Wonder isn't the biggest store to begin with, and I hate to say it, but it really felt like they weren't prepared for the crowd
and
the activities. What do I mean by that? Sure, we could all physically fit in the store, and the process of handing out books was incredibly efficient (despite being #58, I was out of the store by 12:15). However, the face painting and tarot lines effectively left you standing in one place for literally hours. This was a combination of very elaborate set ups (the face painting was quite intricate, done by a guy who works with MAC cosmetics) and the tarot readings were running 15 minutes each at one point, and confusion about where lines were so people would (hopefully inadvertently) jump the line.
The people in attendance were great - there were some awesome costumes and T-shirt designs there! I was a fan of this Team Gale/Peeta duo.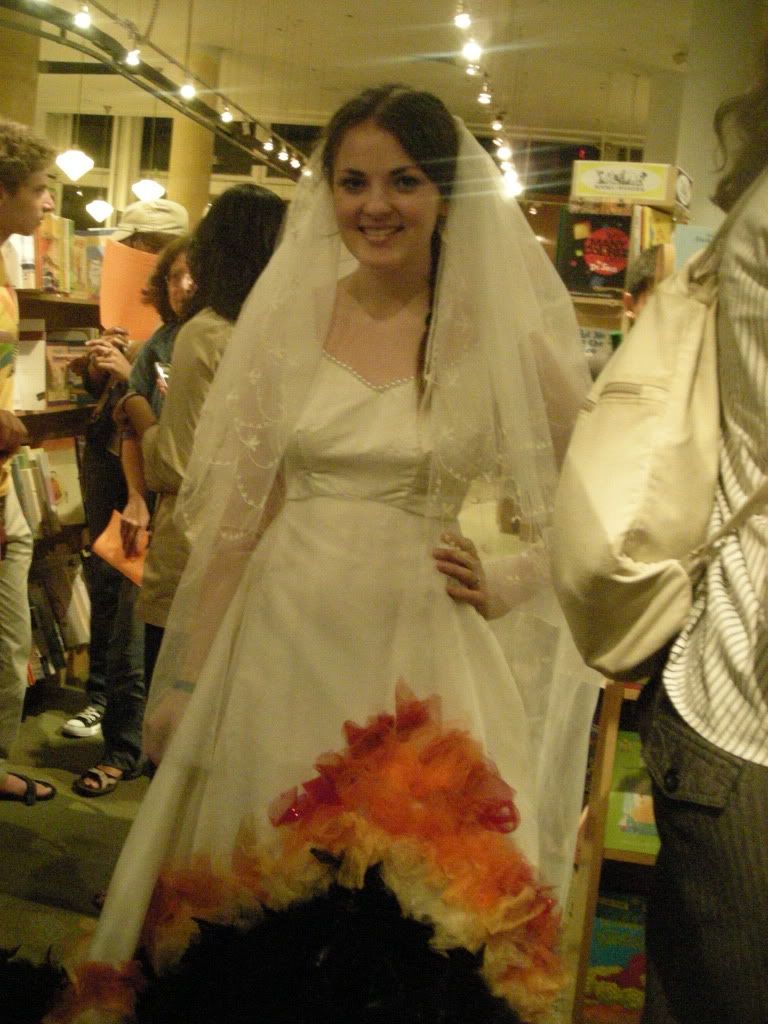 And if you've followed any blog coverage of the party, you've undoubtedly seen this girl taking over the blogosphere. Cinna would be proud!
By 10:30 or so, the crowd was starting to get restless. The gallery area, where Suzanne would eventually would be reading and signing, was slowly taken over by people giving up on the activities and just sitting down to chat or read. I tweeted that it felt like we were settling in for a long siege, with nothing left to do but wait! The jugglers and the magicians had to call it quits because people kept encroaching on their space. I stood in line for almost an hour to get my tarot cards read, which in retrospect was totally not worth it. I've never had my cards read, but it's a good thing I don't hold much faith in those things, otherwise I'd be certain my career path is headed for destruction! Depressing.
A little before 11:30, owner Peter Glassman came out to talk a little bit about the store's relationship with Suzanne Collins - she first visited the store when she was a first-time fantasy author with
Gregor the Overlander
, and she's been a friend of the store ever since. Then one of Suzanne's editors, the famed David Levithan (yep, he edits
and
he writes. A multi-talented guy!) came out to introduce Suzanne. Then! The big moment! The reading!!!
What a treat. We got to hear selections from both
Catching Fire
and
Mockingjay
. Why? Because since Katniss is from Appalachia, Suzanne reads her with an accent. She read Katniss' interview before the Hunger Games of
Catching Fire
, when her dress turns into the mockingjay, to acclimate us to the accent so we wouldn't miss a thing.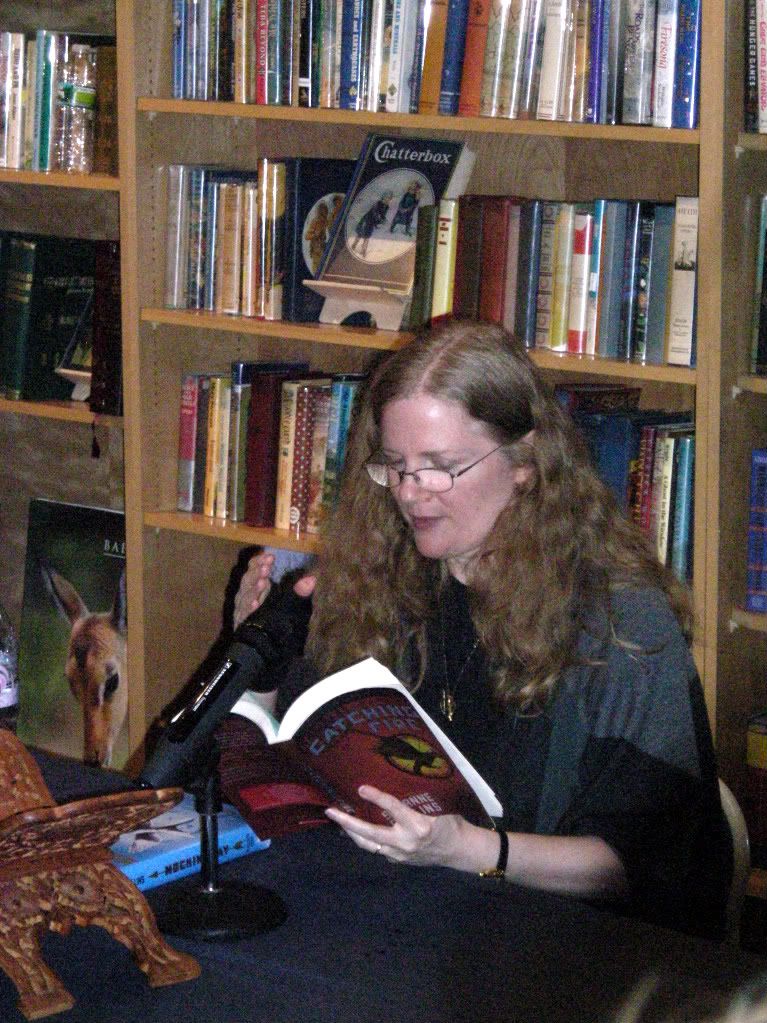 It is pure luck I got a picture this good. I was actually quite a ways back and had a few tall, fidgety people standing in front of me. This is the only picture that doesn't have a shoulder or someone's hair in it.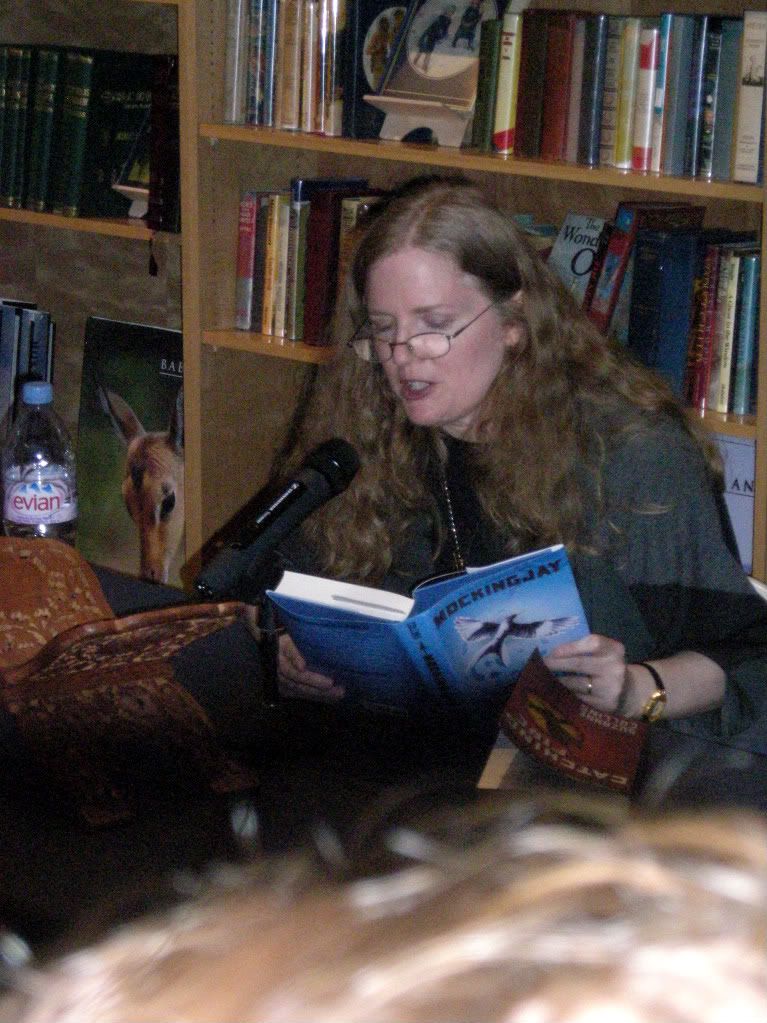 See? Hair. But! Suzanne with an actual copy of Mockingjay!
When Suzanne came out, the room lit up like it was a red carpet, with everyone pulling out their cameras to snap as many pictures as possible. I'll admit, I was standing on my tip toes and holding my camera over heads to get a good shot. But when Suzanne got into
Mockingjay
, you could hear a pin drop - until she started dropping major plot points, then you could hear gasps circling the room. I think I saw one girl crying.
After the reading, we were ushered out of the gallery and the brutally efficient book distribution and stamping process began! Like I said, by 12:15 I had my book and gratefully exited the store into the cool night air. You wouldn't normally think of NYC as having fresh air, but it felt wonderful after hours of being stuck in that store! I met up with my husband, who offered to sit with me on the subway to make sure I wouldn't miss my stop in the excitement, and read until 4:45 in the morning, occasionally having to fend off my cat. He's easily excited and didn't like seeing me get so emotional! He kept climbing onto my lap, even going over my shoulder on the couch once, to make sure I didn't have to read about Katniss' ordeals all alone.
Books of Wonder did the best with what resources (space) they had, but while they kept bragging about how they had handled Harry Potter release parties, I don't see how that space is viable for big release parties. Perhaps the kids were having tons of fun, but I think the adults were getting a little fed up with the lack of space. In the future, I'll continue to attend signings and panels at Books of Wonder, but I think for actual parties I'll be heading elsewhere in the city.
Afternoon update:
Need more to read? I'm today's featured blogger for There's a Book's When I Was Young series! Read more on my Animorphs obsession. And those who've finished
Mockingjay
should definitely check out the discussion going on
here
. Some really interesting thoughts - I bet this conversation will last for awhile!